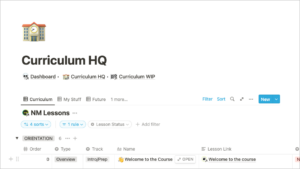 The addition of our lessons, assets and skills databases have vastly improved the processes we follow to add and maintain course content in Notion, and keep our curriculum current with Notion's ever changing UI.
Read More »
Get Notion tips in your inbox
When you sign up, you'll get tips, perspectives, and opinions on how you can better use Notion. Plus you'll get a steady drip of Notion updates, videos, interviews, and resources from the Notion Mastery team.