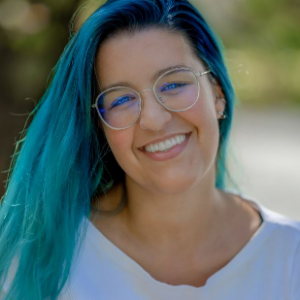 Lucía Júdez Serrano is a digital architect – she envisions and crafts customized systems that support individuals and organizations to live and work better.
By the time she graduated from her masters in UX and Digital Product Design, early on in the pandemic during 2020, Lucía had been dabbling in Notion for a while and been following Marie on YouTube for months. Back then she didn't yet know just how well her background and Notion would mix but with each video of Marie's that she watched, she felt like another portal of knowledge and possibility opened; so she decided to double down on that journey of discovery straight from the expert herself and join Notion Mastery.
Lucía was drawn to the course not just to learn Notion the tool, but also to have more access to Marie and her way of thinking.
She found Marie's approach to Notion uniquely aligned with the way her brain works and felt connected to and inspired by the Notion systems and workflows Marie designed and shared.
Like many, Lucía struggled with wanting her Notion setup to do ALL the things, right away. The guidance the course provided helped her achieve specific outcomes, over time. She appreciated having the many example systems and workflows shared in the course, to use as creative pieces of reference when it came to designing and building customized systems for herself. In addition to the course curriculum (which Lucía describes as "holistic" and chef's kiss) Lucía found immense value in the Notion Mastery community, calling it "a genuinely amazing group of wholesome and motivated people, whose warmth and support I've felt on numerous occasions across my screen and many time zones, since I joined."
Lucía went on to land the very first Chief Notion Officer role (aka Knowledge Management Specialist) where she led a number of transformational initiatives for an incredibly fast-growing team, contributing to improving the efficiency and collaboration across a very demanding and changing environment and helping hundreds of workers in the process – and she is now part of a digital agency where she continues to use her knowledge and unique experience to optimize the digital structures of distributed teams.
Since taking Notion Mastery, Lucía has gone from:
Going forward, Lucía plans to apply some of the skills and creative energy she's been using professionally to manage her ADHD and health, diving deeper into routines and habit building and tracking in Notion. She also has plans to do more building in public, leveraging her knowledge and experience to help more female entrepreneurs and neurodiverse individuals. Lucía says the impact of Notion on her life is unspeakable and Notion Mastery, Marie and the NM community have played a central role.
Lucía's advice to anyone thinking of joining Notion Mastery?
"Start small and try to focus on specific outcomes and victories. They'll naturally build up, especially if you tune in to the tide of wonderful people doing the same."
Ready to take your own journey into Notion Mastery?
Go through the core material at your own pace, with the support of live office hours, a helpful community forum, live trainings, and themed workshops.