Permissions are one of the most complex aspects of setting up a highly collaborative Notion workspace.
It's one of the areas we get the most questions about, and can take time to wrap your head around!
If you plan on sharing your workspace with other team members and guests, you have to understand how permissions work, especially when it comes to displaying linked views of databases.
Whether you're sharing individual pages or entire workspaces, the most important thing to know is that base permissions are defined at the database source.
It can get pretty complex as your workspace grows, and you begin collaborating across a multitude of pages and workspaces. The same principles apply across both: you must grant access to the source database, or the user won't be able to view/edit linked databases on any dashboards that you create.
I recently shared an imaginary scenario to help illustrate the complexity of permissions across workspaces on my Twitter:
In the thread, I highlight the fact that—when you have access to multiple Notion workspaces under the same account (because you can belong to multiple workspaces under the same email address)—you can display linked views of databases between workspaces.
To accomplish this, you can [Copy link] from any database page (or click on the block handle beside any database) in the SOURCE workspace. Then visit your DESTINATION workspace, and paste the link into any page. When prompted, choose [Create linked view of database].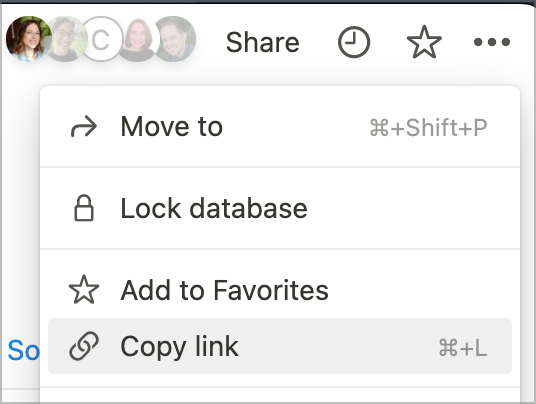 If you're sharing a dashboard with others, they will only see the databases they have permission to access at the source level. Anyone who hasn't been granted access to the source database will just see a blank area.
Being able to view databases from multiple workspaces (or other pages) on a single page is very handy for creating dashboards for yourself that centralize and integrate the information you're accessing in Notion, preventing you from having to frequently move between one workspace and another.
Here's an example of my co-worker Georgia's dashboard in our Oki Doki Team workspace: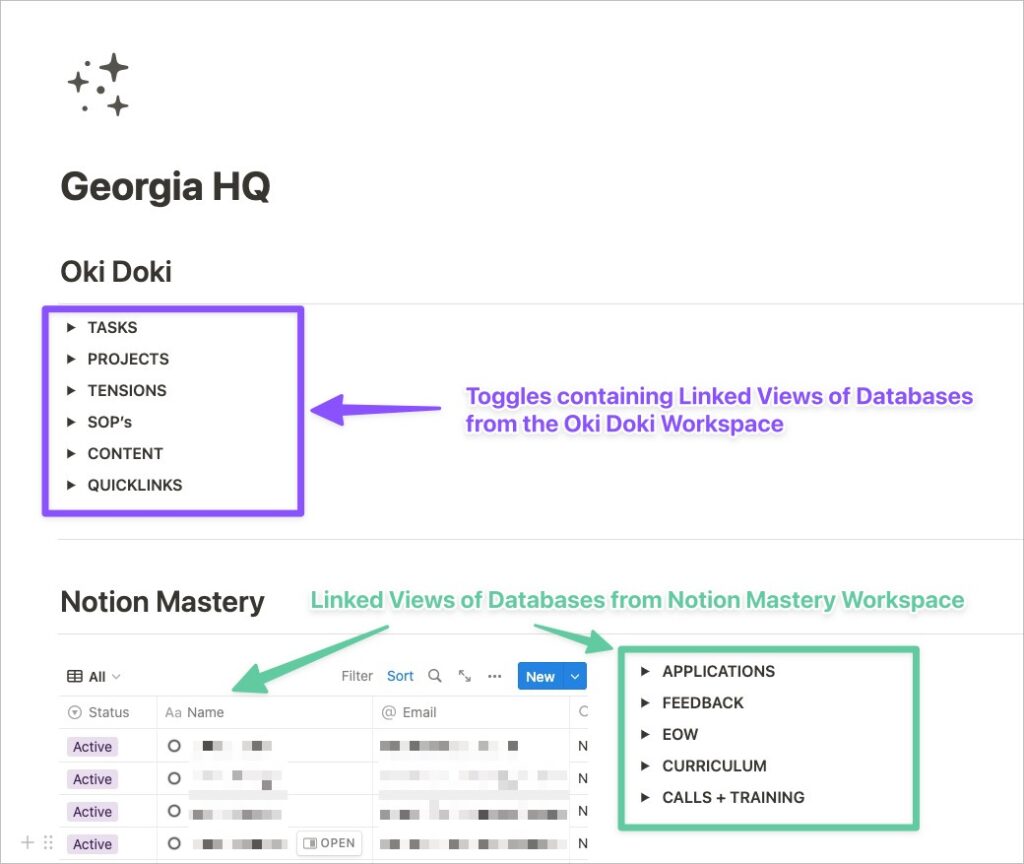 The dashboard page itself is located in the Oki Doki workspace. The source of the databases in the toggles under the Oki Doki heading is also in the Oki Doki workspace, whereas the source of the content under the Notion Mastery heading is in the Notion Mastery workspace. Because Georgia is a member of both workspaces and has "Full Access" to the databases involved, she can view and edit them both from this dashboard.
Oki Doki CTO Ben Borowski also uses this methodology in his "Review" dashboard: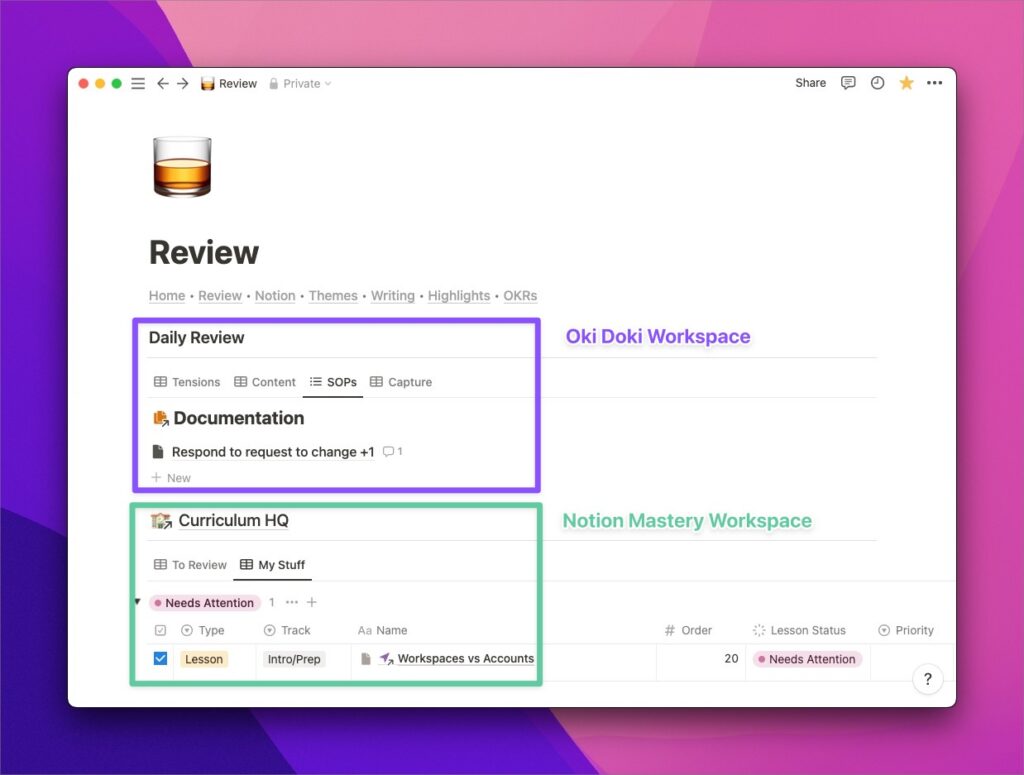 This page uses Linked Views of Databases to pull data from:
The Oki Doki workspace — so he can review Tensions, Content, SOPs and other content that needs a second pair of eyes on it.
The Notion Mastery workspace — so he can review Curriculum in progress and Lessons that need review
Any number of client workspaces — sometimes Ben will uses linked views of databases to pull questions posted in an Integration HQ dashboard in active client spaces. This allows Ben to monitor in-progress work in certain workspaces that are not his primary workspace.
You'll note that both Georgia and Ben have almost totally different dashboards (and my own are different from theirs as well), but all of us leverage the same method and databases to create systems that are tailored to:
Focus on their work and responsibilities.
Allow for high personalization.
Function across multiple workspaces.
---
How about you? Do you use a personal task database as well as your company's task database?
Create a dashboard with Linked Views the Database so you have an easy overview of all your tasks in one place!