Notion shipped what they refer to internally as an XL-sized launch this past week: Teamspaces. The last XL launch was about a year ago—Better Databases—so we know these ones are significant/important for us as Notion administrators to understand.
What are Teamspaces?
Teamspaces are effectively a small Workspace within your Workspace. They have their own set of permissions and security settings. Each Teamspace can have Teamspace owners (similar to Workspace owners) and Members.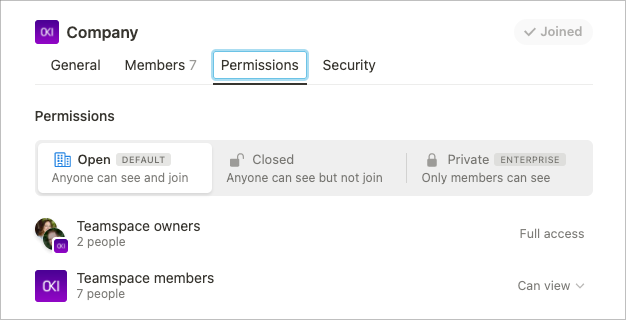 For a rough and dirty overview of Teamspaces, start by watching my video about this feature below:
---
But how?
Now you have a general understanding of what Teamspaces are and how to create and manage them. But how should you organize your Workspace with them? Below we'll discuss three strategies for organizing your new or existing workspace with Teamspaces.
1️⃣ Option 1: Do Nothing
Always a great option in all things in life, to be honest. Take some time to learn the feature. Observe. Plan. Then take action.
Teamspaces, once activated, will create a "General" Teamspace in your sidebar. All your former Workspace docs will be in there. Nothing will change about the way you use Notion with Groups and Individual permissions, but you will see the new Owners and Teamspace permission groups in the Share menu.


Because Teamspaces are entirely backwards compatible, Option 1 is a great option if you're not ready to make a transition yet, or don't want to invest the time in reworking your Workspace. It's also a good idea to consider waiting for the feature to stabilize over the next few months.
Notion is known to change features post-launch, so it's often a good idea to wait!
2️⃣ Option 2: Stick with "General" and a few role-based Teamspaces
This has been our team's strategy to start.
We created two new Teamspaces: "Admin" and "Collaborators". All shared databases now live in the "General" Teamspace and Admin-only databases were moved to the "Admin" Teamspace.
This type of segmentation is perfect for small companies that primarily use a shared set of databases, but might have a need to segment out some data per role or department.
For example, those on the Enterprise plan might make use of private Teamspaces for Finance or HR. Those can not only not be joined without an invite, they don't even show up to Members of workspace the way open and closed Teamspaces do.
3️⃣ Option 3: Go all-in on Teamspaces
Yee-haw! 🤠
One Teamspace for every role/department. Maybe all those top-level Workspace pages move to their own Teamspace.
The nice thing here is your teams can somewhat self-organize.
Andrii notes on Twitter that in some organizations, moving data that isn't relevant to the entire company to Teamspaces might help reduce overwhelm:
The downside here is that it may also be easier to silo data in Teamspaces. You may want to make sure your shared company databases stay in General and use Notion's Linked Views of Databases in your Teamspaces to make department specific content accessible across Teamspaces. A template for Department dashboards could go a long way to making sure that each department doesn't "recreate the wheel" with their own schemas and systems.
Aside here: I really want a "Teamspace" property in Notion Databases so we can Filter on those similar to a Person property!
---
Whatever you decide, Teamspaces may incur a heavy migration cost. Or, if you have a well-structured workspace already, might be as simple as a few page moves. My primary advice is generally the same with all things Notion: before taking any action, interview your Notion admins, team leads, and roles and define what the needs are before going hog-wild organizing.
---
Additional Resources