What is Notion Certified?
Notion Certified is Notion's official certification program. You can challenge written and practical exams to get certain badges that showcase your *Notion prowess. At the time of this writing there exists three badges you can achieve:
Essentials – Exam
Settings & Sharing – Exam
Certified Consultant – Practical
The exams take about 90 minutes and quiz you on your Notion knowledge, while the practical will take up to a week to complete on your own time.
In short, the exams test that you know how *Notion works from a feature-standpoint and the practical to become a Certified Consultant is a test that goes much deeper and shows you know how to work in Notion on other people/company problems given an example scenario. The exams involve answering questions while the practical has you actually building in Notion.
Should you get certified?
Certifications are not necessary to do fantastic work in Notion. If you develop a client base without it, you might be perfectly happy as a provider. If you think it's important, take the exams! But please don't think you can't do awesome client work in Notion without a badge.
Some folks proudly display their badges, others don't think too much about it and treat their certifications as a personal right of passage.
In terms of order, I definitely recommend doing the exams first and foremost, especially Essentials!
If you plan to offer Notion consulting as a service, then the time might be right for you to apply for the Certified Consultant practical. This will get you featured in Notion's consultant gallery, which can be a good opportunity to discover new business.
Settings & Sharing is going to be a good fit for consultants as well, especially those that might be managing and designing workspaces for clients or overseeing operations as a Notion "Champion". If that's something you're already doing and you are considering a lateral move or transition to a different organization, the Settings & Sharing badge could be a great addition to your resume.
The Settings and Sharing Exam
Originally referred to as the "Notion Admin Badge", you can now challenge the Notion Settings & Sharing exam to get this certification badge from Notion Certified.
"Notion settings & sharing badge holders are internal champions and workspace architects with deep understanding of Notion for teams. Answer questions about user roles, workspace organization, and security settings to demonstrate mastery. With a score of 70% or higher, you'll be invited to showcase your well-earned badge!"
I took the exam recently and got an 82%. I'm not the best exam-taker (I barely passed the Notion Essentials exam, though I did fall back on multiple years of Notion building as "studying").
Even if you are solid with studying and know Notion pretty well, both the Essentials exam and the new Settings & Sharing exam have substantial focus on features that you might never have used before, especially from the Enterprise plan.
Whether you're going for Essentials or Settings & Sharing, I definitely recommend using the study guide below to prepare!
Study Guide/Prep
Editor's note about writing the exams: Some questions will ask you to "select all that apply", but will advance you after picking one. This is just a note to warn you of this. It appears in most cases there is only one correct answer, so don't be alarmed.
Now let's jump into the guide…
---
The best place to start is definitely in Notion's Help, tutorials & documentation. Read everything. Watch all the videos. For the Settings & Sharing exam especially, I highly recommend spending extra time with the following sections:
Review "Sharing & Collaboration".
Review "Account Settings & Privacy".
Don't just review the documentation though. Make sure you actually go into the Notion app and use the features they are documenting. Familiarity and hands-on use of the user interface/experience will go a lot farther than just knowledge of it.
Don't just look at the reference manuals, consider watching the Guides provided by Notion as well. There are some fantastic videos on Teamspaces, Sharing, and Groups that will be super handy to watch in preparation for the exams.
---
Review the "What's on the exam" section in each of the exam descriptions on the Certified page. For example, the Settings & Sharing description has a "What's on the exam" that includes "Workspace architecture and maintenance". What does that mean to you? Something like this might require some experience with:
Creating, organizing, and moving pages.
Adding/removing members and guests.
Using Teamspaces and understanding Teamspace settings.
There's a lot that could be included in such a broad topic!
---
Review Notion's pricing and plans and pay special attention to what different settings are accessible on the Enterprise and Team plans. What do they allow you to do? Spend time with Notion's Pricing page and also open up the "Plans" section in the "Settings & members" modal in your Workspaces. For each of the plan levels, consider what you'd be able to do or not do with an account at that plan level.
---
Go through the sign-up process and create plans at various levels. How does the experience differ between Personal, Team, and Enterprise?
You may want to upgrade a single user account to Enterprise to really get a feel for what's available at that plan level. For example, Notion's "Audit Log" is probably something you've never seen before and you may have no understanding of what it is or how it works.
Upgrading for a month or two can give you some key insights into how Enterprise features work. You can always downgrade after taking the exam to save money later.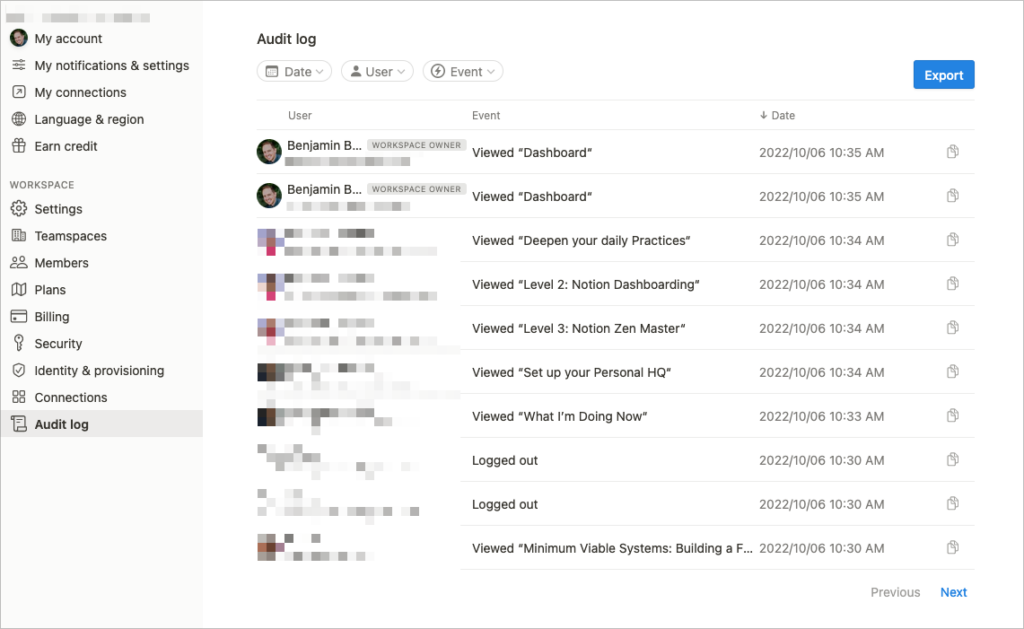 ---
Open up "Settings & members" in your workspace and click through everything and play around.
What are some of the features only accessible on the Enterprise plan?
Do you know what each of the settings do in the "Security" section?
Do you know what SAML means? Do you know what SCIM is for? Do some research by Googling some of the terms you may be unfamiliar with.
---
Pay special attention to which Roles allow you to share. What is an Access level? Can you describe each Access level and what it allows you to do?
---
Pay special attention to the "Share" menu in Notion. If you've only every used Personal Pro workspaces, there's going to be A LOT of stuff to learn. How do these different settings interact?
Example: If you look at this image below, could you tell me :
What a Member in the "EMPLOYEES" group can do with this page? What does that mean?
What's the difference here between "Members of Company" and "Everyone at Oki Doki"?
What's the difference between "Can edit" and "Can edit content"?
Seeing "Can edit content", what does that tell you about the page I took this screenshot from?
Why does one permission say "Based on Company" versus "Based on Marketing"?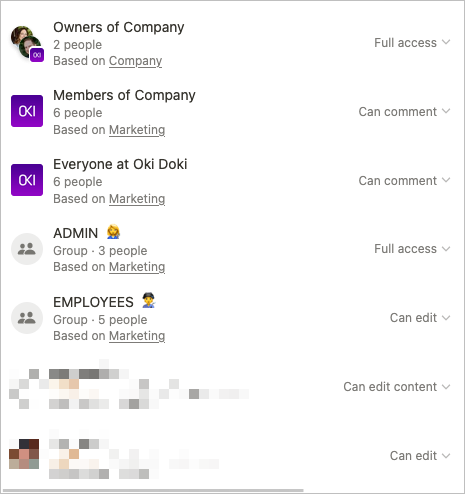 Other sharing considerations to review in the context of Team vs Enterprise:
How can/do members get added/removed?
How can/do guests get added/removed?
How does group access work?
How does teamspace access work?
---
Good Luck!
Hopefully this guide will help you decide whether certification/badging is right for you and give you an idea of how in-depth these exams are. I hope I've shown you that the information you need to study is really all in the Docs and in the App.
Use them both and good luck!
---
[*For full disclosure, I'm a Notion Partner, so when you sign up with my link, you also help support me and my content!]