For a long time I was convinced that productivity software just wasn't for me.
I would spend hours—sometimes days and weeks—pouring my whole life into one, only to completely abandon it a few weeks later.
Then I met Notion, and I'm proud to say I've consistently used it for over two years.
Unless you're Rip Van Winkle, you've probably heard of Notion by now. It's getting a lot of attention as the new "it" tool for productivity, which might be leaving a lot of skeptics with the same question…
Could Notion be the right tool for me?
The short answer? Yes, Notion can work for most people. But before you lose hours, days and weeks testing it out, here are some definite indicators that Notion would be the perfect tool for you, even when others have failed.
1. Your life changes rapidly and you need a tool that can keep up
Let's face it, your life today most likely doesn't look like it did a year ago – and it most likely won't be the same a year from now. If you need a productivity tool that can adjust and grow with you, Notion will likely be your best bet.
With Notion, you are able to add pages, databases, and dashboards based on what's most important or critical right now, and then you're able to hide them out of sight when they're no longer relevant. The look and feel of your daily views are entirely up to you.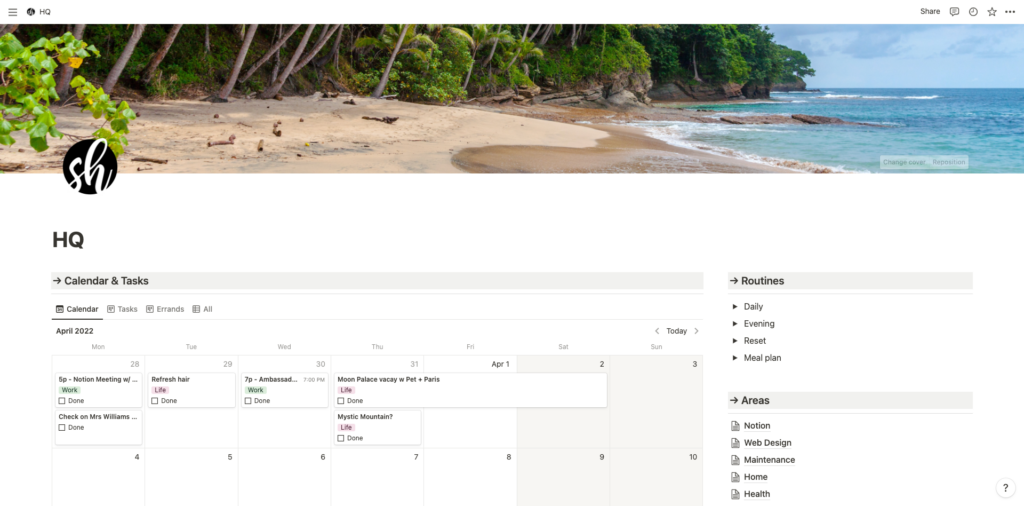 2. You manage multiple projects or areas that you need to keep track of constantly
Not only are you able to add new elements in your own workspace, you can also create entirely new workspaces based on your various ventures, pursuits, and interests, whether temporary or permanent.
And the best part? You can access them all from one account.
So whether you're managing your household with your spouse, your small business with your team or your neighbourhood book club with your friends, you can keep track of them all in one place.
3. You like to tinker with your productivity setup
Whether it's shiny object syndrome, a genuine need for change, or just sheer boredom, a lot of us find ourselves wanting different things out of productivity systems from time to time.
The problem is, most software is designed with a fairly rigid base structure, which gives little room to adjust.
Notion flips that completely on its head by giving you a blank page and the blocks to build your own system from scratch—which means you have the ability to completely change it up whenever you feel like it (which is probably gonna be every six months or so).
4. You want more of a hub than a dedicated to-do list, calendar, notes app, etc.
Imagine waking up, bringing up one screen and being able to see, at a glance, a full overview of your life in this very moment. Everything you have planned for the day, all the important notes you need to reference, and the perfect place to capture all life's happenings so you never miss a beat.
That's what Notion makes possible. Instead of siloing your information in separate calendar, note-taking and to-do apps, you have them all in one place.
It even syncs with many of the major productivity apps out there, so even if your colleagues are still using them, you don't have to.
5. You want just one tool for work and personal life
One of the biggest reasons folks tend to fall back in their productivity is because of having a disjointed system. When you're not able to get a clear view of everything happening in your life, you tend to either overbook your schedule, or things start to get forgotten and fall through the cracks.
If you find yourself struggling with this, that's another reason Notion could be the perfect fit for you.
Whether you run things solo and prefer to have your entire life in one system, or you need separate spaces for your work and personal life, but want them to work in tandem, you can accomplish both with Notion.
6. You thrive on community and inspiration
Notion as a tool is great, but the Notion community? Even better.
With almost 250,000 followers on Twitter, almost 200,000 on Reddit and numerous other content creators on YouTube, Instagram, and TikTok, you'll never lack for inspiration, ideas, and support when you're a part of a Notion community.
You'll also be able to find many templates through Notion's official template gallery and digital marketplaces like Gumroad and Notion Everything.
7. You are neurodiverse
Finally, it's worth noting that there is quite a bit of overlap between folks who have ADHD and those who have found success with Notion. The ability to build and tweak our setups based on how our brains work is a complete game-changer for neurodiverse folks.
Much of the team at Notion Mastery, including Marie herself, also have ADHD, which means the course, templates and supporting materials are all built with this in mind. So if you're looking for a place to get support, not just for Notion, but for using Notion specifically as a neurodiverse person, this would be a great place to get started.
At the end of the day, Notion's flexibility and ease-of-use makes it a great tool for anyone, but especially for the folks who resonate with the items in this list.
Taking the plunge and committing to a new tool might seem daunting at first, but Notion has changed so many lives for the better, that it's absolutely worth it to see if it's the perfect tool for you.