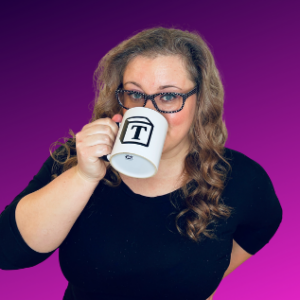 Tasia Malone is a classically trained percussionist, turned digital entrepreneur, on a mission to help creatives get their sh*t together with Notion. She's launched five Notion templates and three Notion design products in the last year, and credits Notion Mastery with helping her become Notion certified, a Notion ambassador and launch her Notion side biz.
Tasia began using Notion during her music/psychology undergrad, mostly as a glorified note-taking tool, but it didn't really stick. When she decided to switch gears in her career and begin freelancing, she needed a productivity tool to keep herself organized.
No other tools had worked for her up until that point, so she returned to Notion. Like many have experienced, Tasia ended up going down the Notion YouTube rabbit hole, where she found Marie.
Marie's use of Notion opened Tasia's eyes to what was possible with the tool. Enter: Notion Mastery.
Tasia connected with the way Marie weaves together Notion and visual design, as well as how she breaks down Notion concepts. Aside from the course curriculum (which Tasia says is the **greatest value-for-money she has found in her educational pursuits**), Tasia was also blown away by the Notion Mastery community.
Tasia has taken her Notion usage from just note-taking, to a Life and Business operating system. She credits an increase in productivity and reduction in anxiety to her new Notion systems.
Thanks to Notion Mastery, Tasia is now Notion Certified, a Notion Ambassador, and working on her Notion Certified Consultant application. In addition to her Notion template side business, she has worked with multiple Notion consulting clients, and even hosted a few Notion Mastery workshops.
Tasia's advice to anyone thinking of joining Notion Mastery?
"Take the plunge. Not only will you learn how to master Notion, you will make new friends, unlock your creativity, and maybe even build a Notion side-hustle. 😉"
Ready to take your own journey into Notion Mastery?
Go through the core material at your own pace, with the support of live office hours, a helpful community forum, live trainings, and themed workshops.