Because we use Notion to host Notion Mastery, we get a lot of questions about using Notion as a course platform.
Notion was not created to host online courses, so before you decide it's the right fit for you and your course, it's important to consider a few things.
1. How comfortable are you with Notion?
Using Notion as your online course platform is a very advanced use case. We do not recommend considering this until you are extremely comfortable with Notion. This includes being very comfortable using all of Notion's features (especially sharing and permissions, and linked vs source databases), as well as confidence in creating aesthetic and easy to navigate dashboards and pages.
It's one thing to use Notion personally, and a whole other thing to be designing spaces that others (who may or may not be familiar with Notion) are going to navigate!
If you are fairly new to Notion, it's going to be much easier to use a tool that was created specifically for hosting an online course. You will be able to input your curriculum into an existing structure right away, rather than having to build that structure in Notion first, and then input your material.
2. Members, guests, or other, oh my
The nuances of sharing and permissions in Notion can be complex. Figuring out the best way to grant and revoke access to your Notion workspace to (hopefully) many people each time you run your course – that's complicated!
Here are some options:
👥 Guests
Guests in Notion are anyone who has been invited to access specific pages (or sub-pages), but who do not have access to a whole workspace.
Guests are free
You can adjust individual levels of access when you invite Guests:

Can edit: They can edit the page's content, but they can't share the page.
Can comment: They can only read and comment, not edit or share.
Can read: They can only read the content, and can't share it.

Requires all your students to have a Notion account.
Guest permissions are cascading: if you provide a guest "Can comment" access to a Notion page they will also inherit "Can comment" access to any sub-pages nested on that page.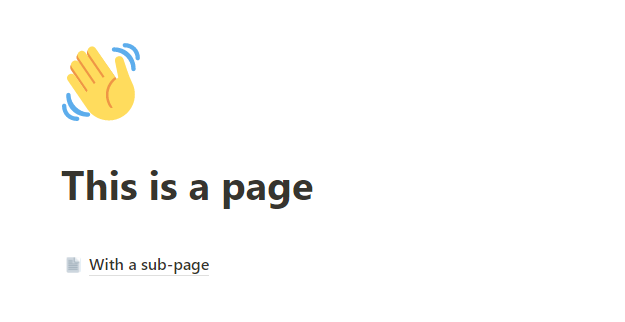 If you are working with a small group, sharing resources, and want your students to be able to view information and/or be able to interact with you on a page, Guest-access is a handy (and affordable!) way to achieve this.
The downside is that inviting guests to pages (and revoking their access later) is all done manually. And, wrapping your head around what they can/cannot see (especially if you have any linked databases on your pages) can be confusing.
🤝 Members
The thing with Members is that you pay per Member. You will want to consider the number of students you might have taking your course before you go this route. If you expect to have 100s or 1000s of course takers, remember that fees are paid per Member, per Month, so even at the lowest tier of Notion plans where you can have unlimited Members (Team Plan — $8 per user/month), 100 "course takers" will cost you $800/month!
You can only add members if you have a paid Team or Enterprise plan.
Requires all your students to have a Notion account.
Members have workspace wide access (though, you can scope this for individuals or using Groups).
Members can add pages to the workspace (eg. your students could create their own Private pages).
Similar to Guests, Members can have edit, comment or read access, depending on what you assign.
The reason we invite all our students as members to our workspace is:
It enables us to automate adding new students to the Notion Mastery workspace, using invite links.
We utilize member Groups to manage student access.
If you're charging a lower-cost, one-time fee for a course, or you have a ton of course-takers, this might not be a good option for you. But if you're charging an ongoing fee for access to content or community, there may be an opportunity to bake the cost of members into your fees.
🔒 Use 3rd party tools to 'lock down' your material in Notion
A tool like MemberSpace, combined with a tool like Super, locks down your course content behind a pay wall.
No Notion account required, instead your students would have a username and password they use to login to your course via MemberSpace.
View access to your material, only—students would not be able to comment or interact with your Notion pages.
Automates access to your material—as soon as someone purchases your course, they are able to login and see your course material.
Can drip out content (eg. releasing a new module each week).
Students can track their progress (and you can view those metrics, too).
Can automatically revoke access to material on a specific date or after a specific period of time.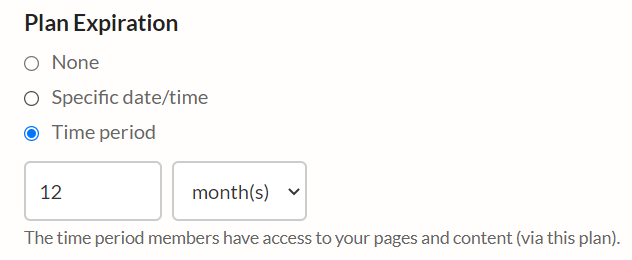 This combination of tools creates a structure that more closely resembles a dedicated LMS (learning management system) and your students' experience will more closely resemble what they may be used to from other online courses.
This method also removes the burden from your students of learning your course curriculum while also learning how to navigate in Notion (which we'll discuss below!).
There is a learning curve to figuring out how to best structure your content in Notion and then connect it to Super and MemberSpace. It will take a bit of time and effort up front to set up, but once it's done it's an efficient system to manage.
3. How comfortable are your students with Notion?
If you go the route of inviting your students as Guests or Members to your Notion-hosted course, they will need to create a Notion account and learn how to navigate in Notion. Even if they only have Read only access to your pages, Notion will likely still feel like a new tool that they need to get used to. If you want them to have "Can comment" or "Can edit" access, that adds another layer of learning they have to do to learn the tool while also consuming your course curriculum.
Carefully consider your target audience, their general comfort level with tech, the complexity of the topic your course is focused on, and whether having to learn aspects of Notion while also undertaking their studies will really be the best experience for your students.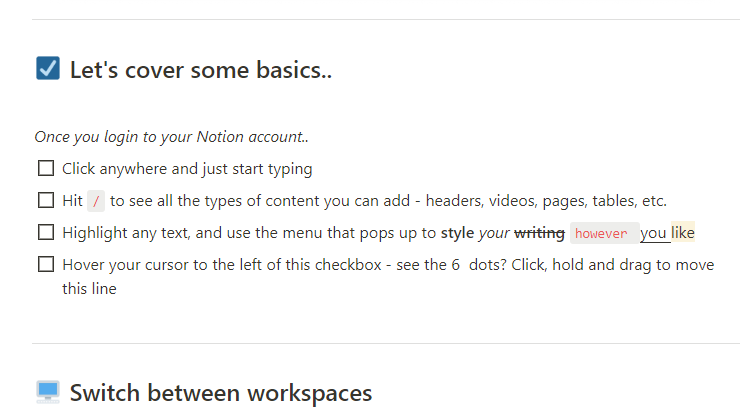 4. What features are most important to you?
Since Notion is not a dedicated LMS it does not have some of the built in features that other course platforms offer. Things like tracking student progress, gathering metrics, quizzing your students or accepting assignment submissions are possible with Notion, but require extra building.
There are many things that an LMS will do automatically (provide access to course material after purchase, drip content, expire access after a period of time, etc.) which Notion will not do unless you piece together systems to do so.
This brings us back to point 1: how comfortable are you with Notion?
Other questions worth asking:
Is your content already hosted on another platform? Is the extra work of transferring it from that platform into Notion worth it, particularly if Notion doesn't offer all the features you want?
Is doing the extra building required to get all the features you want worth it? Or does it make more sense to use a platform that already offers the features you're trying to re-imagine in Notion?
---
If you've made it this far, and you're still set on using Notion (rather than a dedicated LMS) here's what we recommend:
📚 Notion really shines as a platform for Resource Libraries
100+ users (scalable)
Evergreen—available anytime
Proprietary resources or a curated library of content
No community, no assignments
A low-effort, low interaction leveraged asset
Set it and forget it: low maintenance, low interaction.
Not a course—no learning outcomes.
Free libraries can be set up as a page in Notion that you manually invite Guests to (Guests will need Notion accounts and some basic onboarding on how to use Notion).
Paid libraries can use MemberSpace + Super to lock the resources, and MemberSpace/Stripe integration to process payment.
A great way to share original content, and/or a curated collection of other resources, to support your community.
👥 Notion can work on its own for a small Cohort based course
Up to 25 students at a time (more can get unwieldy)
Cohort with fixed start/end dates
Optional: host course community in Circle / Slack
Ideal for small cohorts or beta-testing a first time offer
No Automations: Have to manually invite students to access + manually remove students if you want their access to expire.
Have to figure out your own payment portal.
Students will need Notion accounts (and some basic onboarding on how to use Notion).
Can use Notion to host a basic student forum.
Assignment submission can happen via Notion pages shared 1:1 with each student, or through Tally Form or online community.
Student progress tracking is not built in.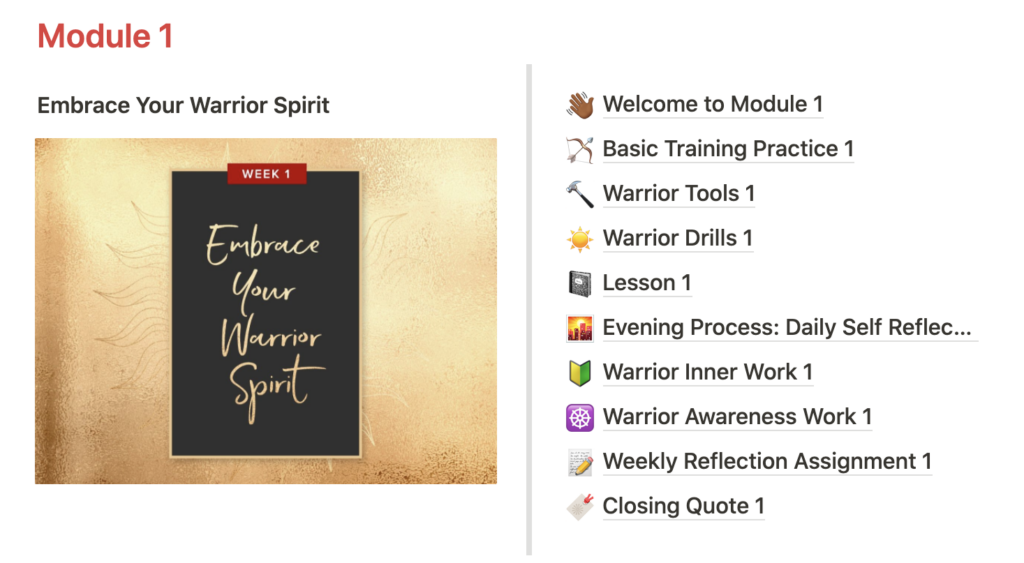 ♾️ For Self Study / Evergreen courses use a combination of Notion and 3rd Party Tools
100+ students (scalable)
Evergreen – available anytime
Optional: host course community in Circle / Slack
Ideal for courses that are available anytime
More initial setup (# of hours will vary depending on the size of the course), but low maintenance long term.
MemberSpace integrates with your payment processor.
Automates providing access to and revoking access from course material.
Students will login to course content via MemberSpace (No Notion account required).
Does not allow for interaction with students within the course space.
Assignment submission can happen via Notion pages shared 1:1 with each student, or through Tally Form or online community.
Student progress tracking is not built in.
---
Whatever you choose to do, make sure you pick the platform that will provide your students the smoothest and most positive learning experience. That may involve using Notion as your course platform – but, maybe not! You can always use Notion to manage your backend course ops and stick with a dedicated LMS for your course platform instead.